From the Founder's Desk
Assalamualaikum wbt

I haven't been updating this blog for a very long time, I'm very sorry about this. InsyaAllah I shall try to update all of you about TLCP and the activities that we have done.

 

This blog is mainly about the activities done in Tadika Rama-rama Bistari which is known as the Little Caliphs Center where activities are really "happening ".Since it is the center, so we have had many visitors, practical training students and trainings done here. Alhamdulillah we have very experienced teachers working at this center, some for more than 7 years or at least 2 years experiences. Most of the teachers are degree holders, hafizah and also having diploma of childhood education. I thank Allah swt for sending me these good and dedicated teachers.

Even though they are experienced teachers they still have to update themselves with regular trainings, either our internal TLCP trainings or we send them to other trainings done by other companies.

 

We have 3 consultants at this centers, their job is not only to ensure quality of TLCP to be adhered properly but also to ensure that other centers follow the program well.

I am not around daily at my kindy, but I do visit them at least three times a week, and hold regular meetings especially with my core teachers. I am very, very concern about education of our children and Insyaalllah will always try to update and do R&D to have continuous improvement for this program, InsyaAllah.

 The  one thing I really need to update is a picture of myself! I have put on weight (!!?!) and is grandmother now, so I'm posting you my latest picture so that when you see me you're not confused!!! Dah tua lah katakan…..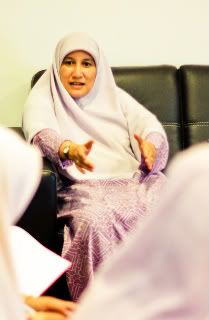 Puan Sabariah Faridah Jamaluddin - Founder Tadika Little Caliphs 
Have  a great day today and our dua to Allah agar kita hidup harian sentiasa di atas landasan Quran dan sunnah dan diberkati dengan rahmat Allah swt.
Maasalamah, ilaliqa'